Ensure your students learn real-world lessons by getting them involved in these fun activities, helping them calculate the cost of college, and teaching them to utilize the "economic way of thinking."
In This Issue:
National Economics Challenge
Gen i Revolution
Teaching the News
This Day in History
Calculating the Cost of College
Quinoa Boom and an Economic Lesson
Download the Newsletter
Download a PDF copy of the March 2013 Teaching Opportunity Newsletter:
---
National Economics Challenge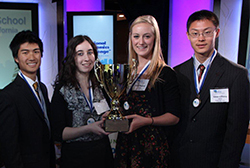 Start a team and compete in the 2013 National Economics Challenge and your team could win a trip to New York City to compete in the National Finals!
The National Economics Challenge applies the excitement of an athletic competition to academic excellence, and encourages students to apply their economics knowledge and work in teams. Competitions are held at the State, National Semi-Final, and National Final levels. In each competition, teams of students answer rigorous questions on microeconomics, macroeconomics, international economics, and current events. At the National Final, students complete rounds of testing, work in teams to solve case problems, and participate in a quick-paced quiz bowl in order to compete for the title of National Champions.
Watch our video that gives an overview of the competition and information on how teachers and students can get involved.
---
Gen i Revolution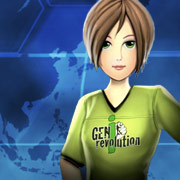 Can you save the world from financial disaster? Join the thousands of teachers and students who have played Gen i Revolution, the companion game to CEE's Learning, Earning and Investing for a New Generation.
Gen i Revolution is a free online game for middle school and high school students to learn important personal finance skills as they play and compete against fellow classmates. Students learn about investing and key finance concepts by battling the "Murktide" and saving the world from financial confusion in 15 interactive missions. Each mission takes about 30 minutes to complete, making it an excellent homework assignment.
---
Teaching the News
Use these current events to teach the news in your classroom. Following each article you'll find several related resources from EconEdLink.org for teaching the underlying economics and personal finance concepts.
The sequester? Never heard of it. - Washington Post (blog)
Tuesday, February 26, 2013

Just one in four Americans are following very closely the debate over the $1.2 trillion in automatic spending cuts set to kick in on Friday, according to a new Washington Post-Pew poll, numbers that serve as a reminder that although talk of the …
See more Teaching the News articles

When A Bad Economy Means Working 'Forever' - NPR
Wednesday, February 20, 2013

Increasingly, people are continuing to work past 65. Almost a third of Americans between the ages of 65 and 70 are working, and among those older than 75, about 7 percent are still on the job. In Working Late, a series for Morning Edition, NPR profiles …
See more Teaching the News articles
---
This Day in History
The Calendar of Historical Events provides 365 days-worth of historical facts and interesting developments in personal finance and economics. See what happened on this day in history, and use the related lessons in your classroom.
March 4, 1812
U.S. Enacts Embargo Against The British
President James Madison enacted an embargo halting trade with the British with hopes of ending attacks against US merchant ships. Tensions with Britian eventually boiled over into the War of 1812.

March 11, 1941
Roosevelt Signs The Lend-lease Law
This law allowed the U.S. to supply the Allies with the money and military equipment necessary to combat the advancing Germans. Overall, the U.S. sent $50.6 billion in aide to its allies, serving as what Roosevelt called "The Great Arsenal for Democracy."

March 24, 1989
Nation's Worst Oil Spill
The nation's biggest oil spill occurred when the giant Exxon Valdez supertanker hit a reef, causing it to leak 11 million gallons of oil into Prince William Sound.
---
Calculating the Cost of College
Students are never too young to calculate the cost of secondary education. Use this worksheet with your students to compare the cost of attendance of their college choices.
Investing in Yourself: An Economic Approach to Education Decisions
"Human capital" may not be the first thing that comes to mind when we think about investments, but investing in education and training is an important economic decision. Learn about human capital and the return on such an investment in the February 2013 Page One Economics Newsletter—"Investing in Yourself: An Economic Approach to Education Decisions."
---
Quinoa Boom and an Economic Lesson
Quinoa is considered by many to be a "super food", so nutritious that 2013 has been designated Quinoa Year by the U.N. 90% of the world's supply comes from three countries: Bolivia, Peru, and Ecuador. This high protein, low-fat food has become so wildly popular world-wide that the price has increased by 600% since the year 2000. Like many food phenomenons, quinoa started at the subsistence level millennia ago as a staple of ancient Incan people. But the intense level of demand has now created two dilemmas: the citizens can't afford their own crop anymore and though the nations who grow it have seen a surge in economic growth, there has been a decline in economic development. This is an indicator of elements such as education and healthcare.
Have you students read these two articles and answer the following questions:
Quinoa boom offers hard lesson in food economics
Quinoa: Economic Growth Hindering Economic Development?
Using market analysis (supply and demand), describe the changes in the quinoa market since 2000.
Why can it be said that "economic development is not a necessary condition for economic growth to occur"?
Why is it suspected that economic development has declined in these Andean countries?
Are there other examples of staple crops becoming mass-produced and is it always a negative thing for the country of origin? Explain.